Anniversaries for today :
Welcome to Clash of Steel!
---
Featured battle : Abaud
Part of The French Revolutionary and Napoleonic Wars
Date : 03 April 1799
A clash between two detached forces. The numerically smaller but better disciplined French infantry won the day.

Featured image :
The Battle of Boroughbridge Monument.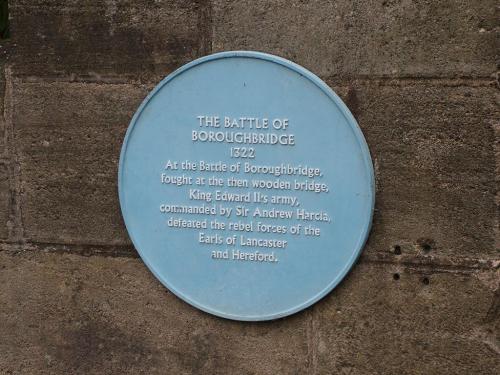 A plaque on the side of the current bridge in the town commemorating the battle in 1322.
Gallery updated : 2022-04-04 08:33:43
Featured review :
Into Battle with Napoleon 1812. The Journal of Jakob Walter
Jakob Walter. Edited & Annotated by Bob Carruthers


This is a re-presentation of the jounal which was first translated and published in America in 1938. Bob Carruthers has done a really good job in bringing this wonderful work up to date. His inspired selection and inclusion of the watercolours of Albrecht Adam, who witnessed many of the same events as Jakob Walter, makes the book even more enjoyable. That is if the brutal reporting of such a train of harrowing events can ever be enjoyed. The reader is left with an understanding of the life of a soldier in Russia in 1812 and thankfulness that Jakob kept a jounal. A must read.


Pen & Sword Military, Pen & Sword Books Ltd., 2013



Reviewed : 2013-04-30 19:15:12
---