Anniversaries for today :
Welcome to Clash of Steel!
---
Featured battle : Ursensollen
Part of The French Revolutionary and Napoleonic Wars
Date : 14 April 1809
Part of the Austrian advanced guard of Bellagarde's I Corps attacked a larger French force. The French were supported by guns the Austrians were not but they still forced the French to withdraw.

Featured image :
British General Purpose Machine Gun, or GPMG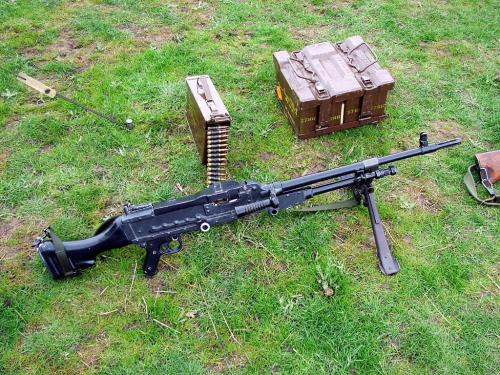 The main light machine gun used by the British army since the 1960's. A 7.62mm, belt-fed workhorse that can lay down a heavy supporting fire from an infantry platoon or mounted on vehicles. Displayed by the Forces80 re-enactment group.
Gallery updated : 2021-04-01 18:52:49
Featured review :
The Dunkirk Perimeter and Evacuation 1940
Jerry Murland


This book is precisely focused on the BEF's actions in both establishing a defensive perimeter and in evacuating as many troops as possible from Dunkirk and the beaches nearby. The text is broken up into short separate sections dealing with units and places. Within these are many quotations from the men who did the deeds accompanied by a wealth of photographs of the men and the places. The maps are contemporary to the action and include some from the German side showing the allied dispositions they were aware of. Here are the facts without interpretation, opinion or dramatization and the book is all the better for it.
This is a remarkable story, well told, which even today lives in the national psyche. One quotation from Major Mark Henniker on the 4th June 1940 stands out 'I suppose it will gradually dawn on the generous English people, who greeted us with food, socks, cigarettes and every sort of gift one could imagine, that it was no victory but a crashing defeat.' I am not sure that that dawn has yet arrived.
The final chapter is a guide to the battlefields as they are now. These guides are so good that one almost doesn't need to make the visit but for anyone who does do the trip this book is a must.
We highly recommend this well researched work.



Pen & Sword Military, 2019



Reviewed : 2019-07-01 08:46:21
---