Welcome to Clash of Steel
---
Featured battle : von Richthofen's last flight
Part of First World War
Date : 21 April 1918
The day when Baron Manfred von Richthoffen, the 'Red Baron' finally succumbed to the inevitable. After 80 confirmed kills he was shot down himself, but remained the 'Ace of Aces' with the highest number of victories for the war.

Featured image :
Royal Sussex Regiment Monument, Brighton.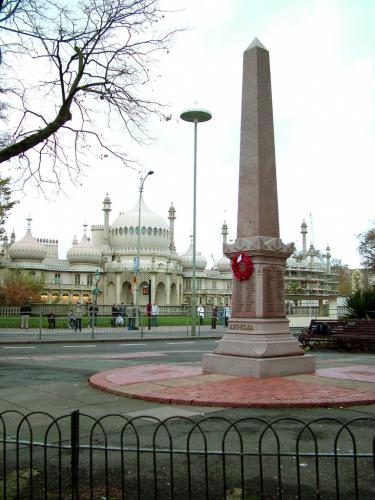 An unusual monument to the men of the 35th Royal Sussex Rgt. Who died as a result of their action in the Egyptian campaigns of the 1880's. The monument is of pink marble and stands outside the elaborate Royal Pavilion commissioned by George IV in the early 1800's. The inscription reads : "ERECTED BY THE OFFICERS, N.C.OFFICERS AND MEN 1st Bn ROYAL SUSSEX REGt. TO THE MEMORY OF THEIR COMRADES WHO WERE KILLED IN ACTION OR WHO DIED OF WOUNDS OR OF DISEASE CONTRACTED DURING THE EGYPTIAN CAMPAIGN 1882 AND NILE RIVER EXPEDITION 1884-85"
Gallery updated : 2016-02-21 17:33:57
Featured review :
Waterloo Archive Volume VI: British Sources
Gareth Glover [Ed]


The last volume of this superb series by no means appears to 'scape the barrel' indeed it almost appears as if Gareth Glover has saved some of the best bits to the end. The illustrations are beautifully reproduced. The series as a whole is a must for anyone who aspires to understand the battle and its context, the men, their families and the times they lived and died in. It would be wrong to single out any particular volume, each is as good as another and having read one I am sure one would want to read them all. If we are really lucky perhaps Gareth Glover will find material enough for another volume. Highly recommended.


Frontline Books, Pen & Sword Books Ltd., 2014



Reviewed : 2015-03-31 08:53:41
---